Snelweg metalen vangrail vormmachine
Highway metal vangrail vormende machine zijn ontworpen voor het produceren van w-beam vangrail met 2 golven en 3 golven of thrie-balken geplaatst aan beide zijden van snelweg of snelweg. Materiaaldikte: 3-4 mm, het eindproduct kan worden gesneden als per ingestelde lengte controller , en de lengte wordt automatisch gemeten door encoder. Wanneer het eindproduct de ingestelde lengte heeft bereikt, stopt de machine om het vel automatisch te snijden. Voltooi deze actie, de machine zal opnieuw continu lopen.
en de extra balk is vereist om de reling te bevestigen. Er zijn gaten voor de perforatie vereist. Vaak is de dikte 3-4 mm. Het besturen van de machine voor het vormen van een geldboom is anders.
Onze vangrail rolvormen machine is samengesteld uit 10 ton auto decoiler, sheet leveling machine, belangrijkste vormmachine, hydraulische ponsen syste, en hydraulische guillotine.
1.
Hoofdparameters van de vangrailbroodje die machine vormen
:
P
arameters van grondstof
Material

Thickness

I.D

Yield Strength

Q235




galvanized strip

3-4mm

508mm

<=

235mpa
Decoiling → Roll Forming →
Hydraulisch snijden
→
Verzameltafel
2.
Foto's van
w-straalvormende machine
: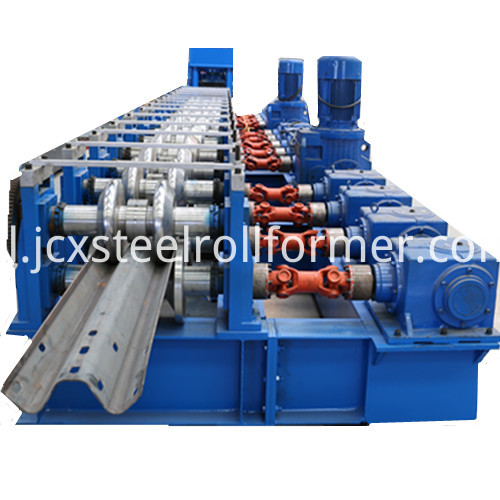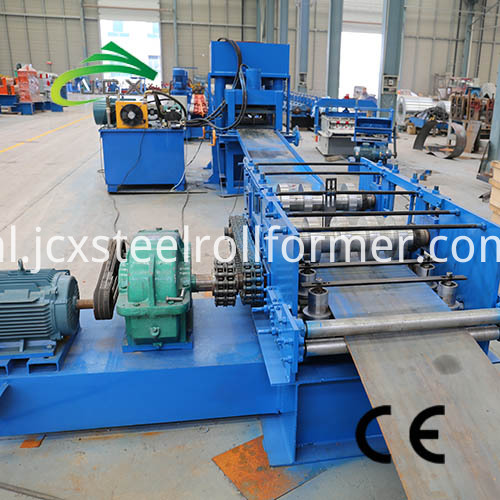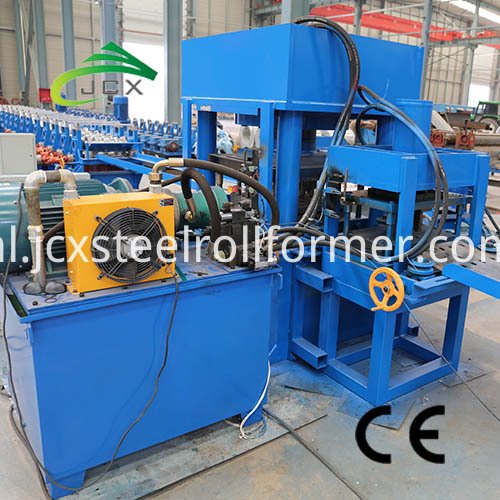 3
.
Technologie parameters:
Het gewicht van de machine is ongeveer
3
.
1
ton.
De totale dimensie van
machine
:
6800
(L) * 1
2
00
(W) * 1
5
00mm (H)
3.1Manuele decoiler
:
Capaciteit van uncoiler: 10tons
Uitbreiding van segment: Handmatig
Rotatie van segment: handmatig
Aantal segmenten:
4
Bereik van segmentuitbreiding: 480-520 mm
Bedieningsmethode: Handmatig
3.2
Leidingssysteem
:
met oprolbare rollen
3
.
3
belangrijkste vormmachine:
Spoeldikte:
4
mm
motortype: 3-fase asynchrone motor
Hoofdmotorvermogen: 22 kW (2sets)
Ong.
15
groepenroller inclusief
Roller:
CR12
met
dovende
behandelingen
,
Schachten van rollen worden twee maal bewerkt met een slijpmachine om de precisie van het eindproduct te garanderen.
Schacht: Diameter van de maximale schacht: ø 12 0 mm (verharding en ontlaten)
Transmissie type: per reductie box
3.4 Hydraulisch zagen:
Materiaal van het blad: Cr12Mov, HRC58-62
Lengtemeting: automatische lengtemeting van de encoder
Type snijden:
Snijden na het vormen: Snijd de plaat na het vormen van de rol op de gewenste lengte. Voor verschillende maten hoeft u de vorm niet te veranderen
Snijbeweging: Het hoofdapparaat automatica
l
ly stopt en het snijden zal place.After neemt het snijden, wordt het hoofdapparaat automatisch gestart.
Vermogen van de motor:
3
kw
3.5 Productondersteuningframe
Afmetingen:
L
3
mx W0.5m
Product Categorie : Crash Barrier Roll vormmachine > 2 Wave Guradrail rolvormen machine