PU-schuim rolluik deur machine
De productielijn van PU-rolluiklamellen was oorspronkelijk geïnnoveerd om rolluiklamellen (geïsoleerd met PU of polyurethaan) te produceren die worden gebruikt als rolluikdeuren of ramen voor Europese markten.
rolluikdeur vormmachine is ontworpen voor het continu produceren van rolluikdeurlatten met geïsoleerde PU of polyurethaan; de deurlatten of jaloezieën scharnieren elkaar horizontaal als rolluik. Een productielijn van PU-rolluiklatten is ideaal voor de productie van rolluiklatten met variabele lengtes en in grote hoeveelheden. Het gelegeerde aluminium en gegalvaniseerd zinkstaal dat wordt gebruikt om lamellen te maken, hebben een net uiterlijk, zelfs rimpelingen, hoog gebruik en sterkte. De PU- of polyurethaanschuim geïsoleerde rolluiklamellen hebben een goed vermogen om warmte te bewaren, vergeleken met de rolluikdeur en PU-panelen die niets thermisch isolerende materialen hebben.
76 PU-geïsoleerde graderdeuren vormmachine is de meest voorkomende.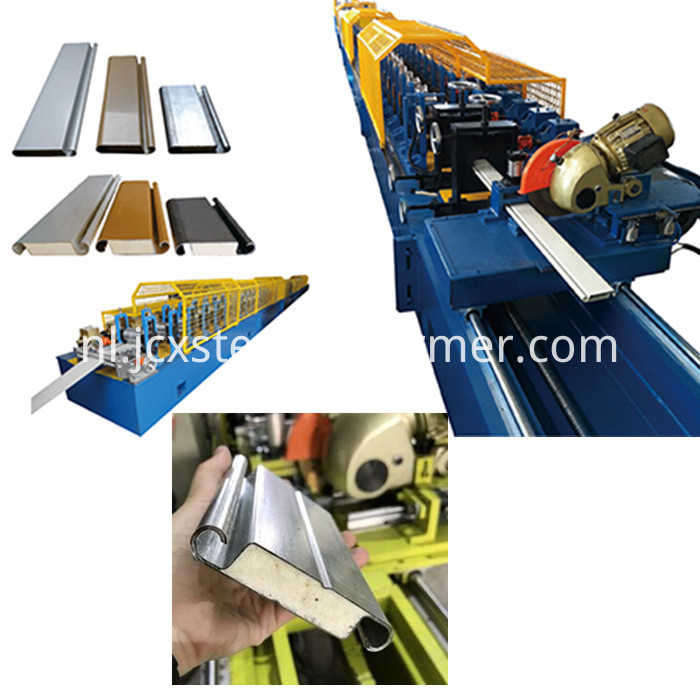 Hoofd technische parameters
COMPLETE LINE LAYOUT
Double head un-coiler ----- feeder guide --- roll forming -Heating device-- --PU Injection -roll forming - keep heating box --- ---- Pneumatic punching hole ------PLC control --- Flying saw cutting unit --- 6 meters roller run out table
COMPONENT VAN COMPLETE LIJN:
Dubbelzijdige afwikkelaar: handmatige capaciteit van 2 ton per eenheid
Hoofdframe van vormmachine één / eenheid
Maak deel één / eenheid recht
Pneumatische vliegende zaagsnijmachine één / eenheid
Eenvoudige rollenstapelaar 6 meter één / eenheid
PLC-systeem: één / eenheid
8. PU-schuiminjectiemachine: één / set
Specificatie voor schuimmachine:
1. Motorvermogen: totaal 5,5 KW; 380V; 50 / 60Hz China merk
2. Mengkop met één reserve is inbegrepen
3. Menghoeveelheid pomp: 8 g / seconde
4. Dichtheid: 70 ~ 80 kg / m3
5. Mengen type: mechanisch en automatisch
6. Wassen: automatisch
7. Tankvolume: 50 KG / tank. Zowel Poly als ISO
8. Merk van schuimmachine: GROTE MUUR.
Product Categorie : Roldeur rolvormen machine > 76 PU-isolatieglasdeuren vormmachine