Omega Model Kanaalvormmachine
Ons bedrijf is gevestigd in botou van de provincie Hebei, we hebben gemaksvervoer dat onze fabrieken aan de kant van de nationale weg No.104 liggen en zijn gesloten voor de nationale weg No.106 en de jinghu-spoorlijn.
Ons bedrijf opgericht in 1995. Door onderzoek en ontwerp voor vele jaren, we hebben omgezet in een professionele fabrikant van rolvormmachine. Onze producten verkopen goed aan Afrika, Zuid-Europa, Rusland, Oost-Azië en Zuid-Amerika en zo verder.
We zetten de belangen van klanten voorop, zodat onze producten van hoge kwaliteit zijn. daarnaast hebben we een goede after-sales service, onze ingenieurs kunnen naar het buitenland gaan om te debuggen en service te verlenen
1. Chanel-machine
Dit product wordt veel gebruikt in vele soorten industriële fabrieken, civiele gebouwen en wandplaten voor producten met aangehecht onderdeel. Het heeft voordelen van mooie verschijning, duurzaam gebruik enzovoort.
Deze machine is samengesteld uit automatische ontladingslijst, voer belangrijke lijst, hoofd vormende machine, knipselapparaat, hydraulische post en computercontrolesysteem.
Optioneel systeem is een normale afwikkelaar en een hydraulische afwikkelaar. Het model van elk vel kan worden ontworpen volgens de wensen van de klant.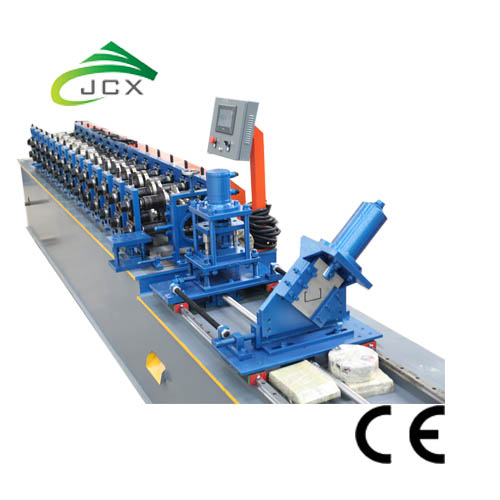 Profile

Thickness range

0.45mm-1.5mm

Process flow
Manual decoiler---feed with guide---roll forming---press step--- cut with fixed length---output with table


Decoiler

type

Manual

Min material inner dim:

450mm

Max coil width

200mm

Max coil weight

2T

Forming machine

Machine dimension

3400*700*900mm

Power(kw)

5.5kw

roll stations

10stations

Sheft material

45#steel

Sheft diameter

50mm

roller material

Cr 12

Roller material treatment

Heat treatment

Transmission type

Gear

Forming machine

Machine feeding adjustment type

Manual

speed

0-25m/min

Motor power

5.5kw

Motor voltage

380V

Motor brand and origin of the

Taida brand,taiwan

Frame structure:

Thickness:25mm

Machine level adjuetment

Yes

Length counter

yes

Cutting system

Blade material

Cr 12

treatment

Heat treatment

Hydraulic motor power

3kw

hydraulic brand and origin of the

Taida taiwan

Cutting tolerance

2mm

Hydraulic pressure

16mpa

Control system

PLC type and brand

Taida taiwan

Touch scream

yes

Automatic length measurement

yes

Automatic quantity

yes

Length and quantity list

yes
2. Processen en componenten
Technisch proces:
Handmatige decoiler --- feed met gids --- rolvormen --- druk stap --- gesneden met vaste lengte --- output met tafel
3. Componenten van lijn:
| | | | |
| --- | --- | --- | --- |
| No. | Name | Unit | Qty |
| 1 | Man-made uncoiler | set | 1 |
| 2 | Main machine for roll forming | set | 1 |
| 3 | Control system | set | 1 |
| 4 | Hydraulic system | set | 1 |
| 5 | mold pressing machine | set | 1 |
| 6 | Blade | set | 1 |
| 7 | Receiving table | set | 1 |
4. Verpakking:
Wat betreft het pakket van de machine, zou het naakt moeten zijn. Maar we beschermen de machine ruim voor verzending, om te voorkomen dat machines roesten.
Levering: 40-50 dagen
Product Categorie : Light Gauge Steel Framing Forming Machine > Gipsplaten Partiton Profiel Vormmachine