AG-paneelvormer
Laat ons eerst iets weten over het AG-paneel. Wat is AG-panell? AG Paneel is een weerbestendige dakoplossing voor resisdential house. De AG- panelen bieden niet alleen uitstekende bescherming tegen de elementen en verhogen de levenscyclus van uw dak, maar ze verlagen ook de behoefte aan onderhoud op uw dak.
Rollen vormen heeft veel kostenvoordelen ten opzichte van remvormen en voorgevormde panelen. Als u niet bekend bent met wat rolvorming voor uw winst kan betekenen, volgen hier slechts een paar van de besparingen die u kunt verwachten ...
Geen dure verzending en kratten van lange panelen
(Laat spoelen recht afleveren op uw winkel of op uw werklocatie)
Geen schade aan de paneelverzending en uitgebreide vertragingen
(Probeer gewoon een vervangend paneel uit de fabriek te bestellen)
Minder arbeid en afval
(Voer uw panelen op de exacte lengte uit zonder tijd en materiaalverspilling)
Werk aan uw eigen schema - niet aan de fabriek
(Wanneer het dak klaar is - draai gewoon je panelen
Vorm perfecte panelen tot elke lengte
(Vorm lange panelen op de site of op het dak zonder kratproblemen)
1.
Hoofdparameters van ag dakplaat die machine vormen
:
P
arameters van grondstof
Material

Thickness

I.D

Yield Strength

Q235




gi&ppgi& galvalume

0.25-0.7

mm

508mm

<=

235mpa
Decoiling → Roll Forming →
Hydraulisch snijden
→
Verzameltafel
2.
Foto's van
dakrolvormer
: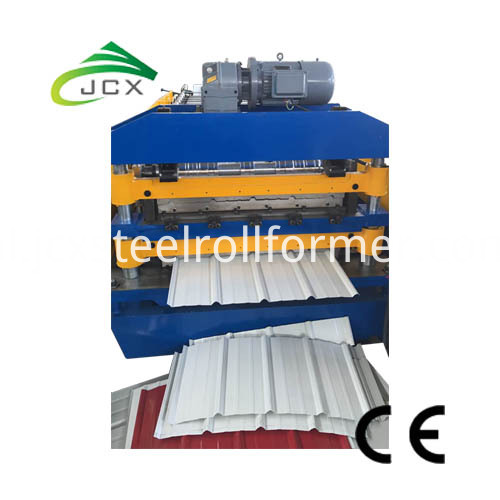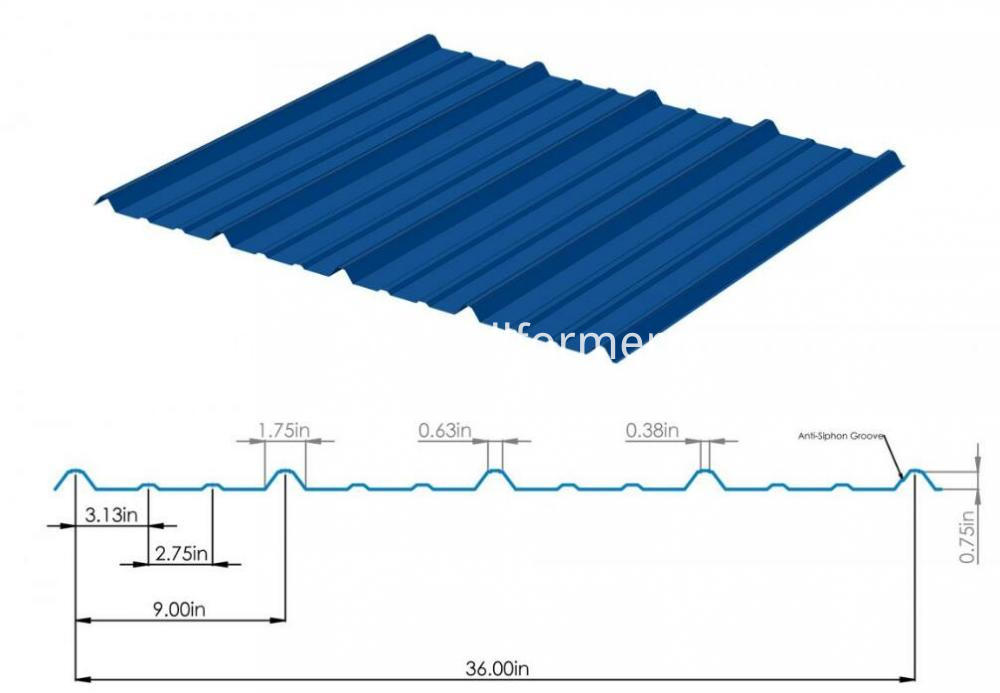 3
.
Technologieparameters van rolvormmachine:
Het gewicht van de machine is ongeveer
3
.
1
ton.
De totale dimensie van
machine
:
6800
(L) * 1
2
00
(W) * 1
5
00mm (H)
3.1Manuele decoiler
:
Capaciteit van uncoiler: 5tons
Uitbreiding van segment: Handmatig
Rotatie van segment: handmatig
Aantal segmenten: 4
Bereik van segmentuitbreiding: 480-520 mm
Bedieningsmethode: Handmatig
Aantal: 1
3.2
Leidingssysteem
:
Om het materiaal recht te houden
Ingang en verstelbare wiel: 2 rollen
Aantal: 1
3
.
3
belangrijkste vormmachine:
Coil thickness: 0.25-0.7mm
motortype: 3-fase asynchrone motor
Hoofdmotorvermogen: 4kw + 3kW (normale snelheid),
De roller van Approx.13group inclusief
Roller: S45C met blussen behandeling, assen van rollen zijn bewerkt door slijpmachine voor twee keer om de precisie van eindproduct.
Schacht: Diameter van max. Schacht: ø70mm (harden en ontlaten)
Transmissie type: door een inch ketting
Aantal: 1
3.4 Hydraulisch zagen:
Materiaal van het blad: Cr12Mov, HRC58-62
Lengtemeting: automatische lengtemeting van de encoder
Type snijden: Snijden na het vormen: Snijd de plaat na het vormen van de rol op de gewenste lengte. Voor verschillende maten hoeft u de vorm niet te veranderen
Snijbeweging: de hoofdmachine stopt automatisch en het snijden vindt plaats. Na het snijden start de hoofdmachine automatisch.
Vermogen van de motor: 3kw
3.5 Productondersteuningframe
Afmetingen: L 3m x W0.5m
Product Categorie : Dak en wandpaneel rolvormen machine > Trapeziumvormig Bladbroodje dat Machine vormt