Gegalvaniseerd profielblad dat machine vormt
gegalvaniseerde dakprofielvormmachine is een zo noodzakelijke rolvormapparatuur die boxdak- en zijpanelen produceert voor industriële, agrarische en individuele gebouwen.
Voor onze rolvormmachine, is het aangepast ontwerp. Verschillende ontwerpen kunnen worden cusotmized als uw verzoek. Als u geïnteresseerd bent in onze machine.
het eindproduct kan worden gesneden volgens de ingestelde lengte-controller, en de lengte wordt automatisch gemeten door de encoder.Wanneer het uiteindelijke product de ingestelde lengte heeft bereikt, stopt de machine om het vel automatisch te snijden.Minimalisatie van deze actie zal de machine opnieuw continu draaien




Maak de foto o8. Profiel Tekening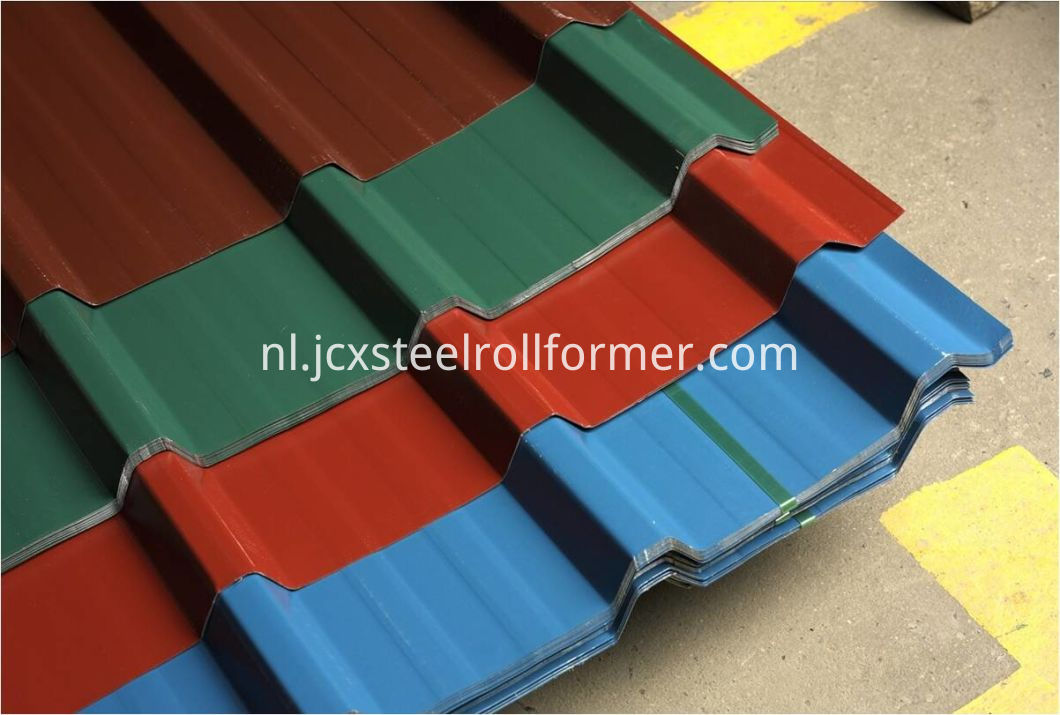 Materiaal:

gegalvaniseerde spoel, kleur gecoate gegalvaniseerde spoel

Dikte van het materiaal: 0

3.

-0.

8

mm

3) Opbrengststerkte van rol: 250mpa,
Notitie:
Als de plaat met een coating, moet de coating in overeenstemming zijn met coating inspectie-normen van de relevante kleur-gecoate, mag geen skin off, om niet van invloed op de kwaliteit van de rolvorming.
Als het materiaal gegalvaniseerd staal is, moet het gegalvaniseerde staal in overeenstemming zijn met de relevante testnormen van het gegalvaniseerde staal, mag zinklaag niet worden verwijderd om de kwaliteit van de rolvorming niet te beïnvloeden.
Werkstroom en lay-out
10
. Het leveren van componenten van de
complete machine
NO.

Description

Quantity (set)

Remark

1

7

T

Manual

decoiler

1

2

Guiding device

1

One complete unit as main machine

3

Forming system

1

4

Transmission system

1

5

Hydraulic guillotine

2

6

Support table

2

7

Hydraulic station

1

8

Control box

1

9

Manual collecting table

2

10

Spare parts and tools

1

A

s attaching list
11
.
Algemene parameters
No

Item

Parameter

Note

1

Forming Speed

Max

12-15

m/min

Excludes

cutting

2

Forming station

16 or 13 groups

3

Total Power

5.5+4kw

\

4

Total Weight

About 4200

KGS

5

Voltage

380v,

5

0hz,3p

6

Diameter of shaft

70mm

7

Installation Size

13

*

1.1

M

*1.4

8

Sizes of chain

Double 0.6inch chain

9

Thickness of wall structure

18

mm
12
.
Belangrijkste onderdelen materiaal
No

Item

Parameter

Note

1

Forming Shaft

45# steel with grinding process




2

Forming Roller

45# steel

with

tempering heat treatment and hard chrome coating

3

Cutting Blade

Cr12 with hard treatment

4

Control System

DELTA

PLC& transducer

,

low voltage:SIEMENS

.

5

E

lectrical motor

From jiangsu

6

Bearing

C

hina quality brand

7

Chain

C

hina quality brand

8

Hydraulic parts

C

hina quality brand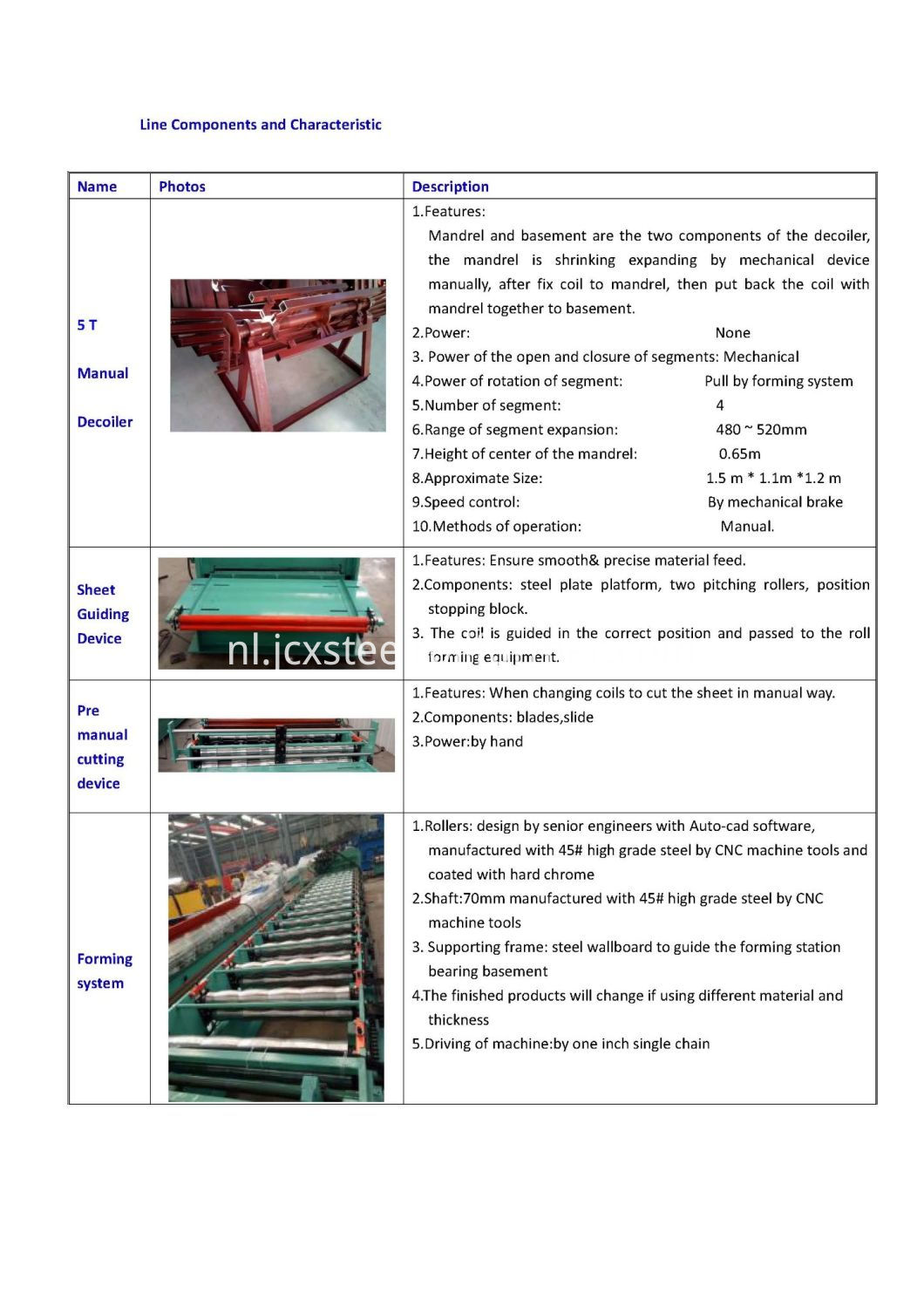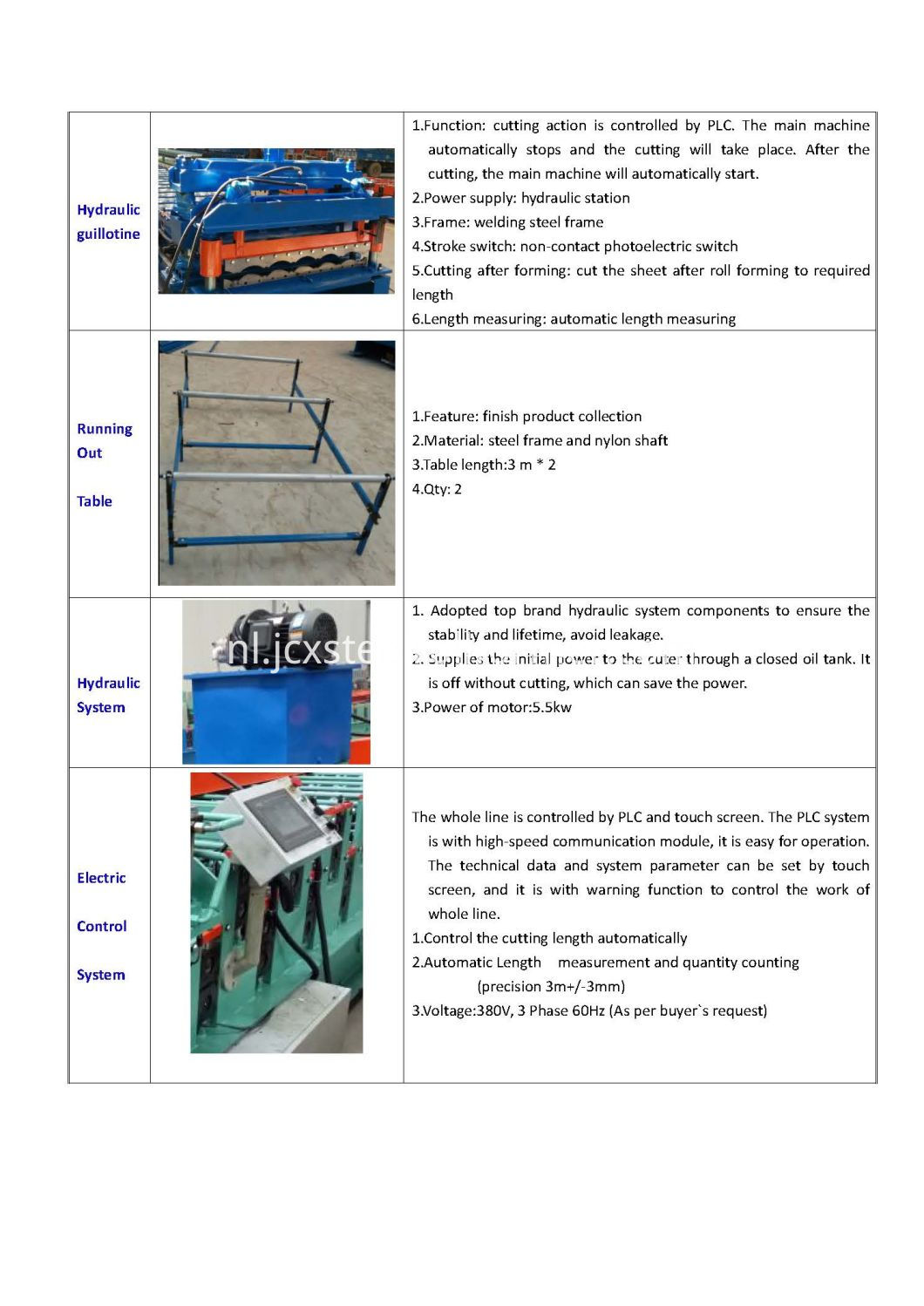 Product Categorie : Dak en wandpaneel rolvormen machine > Trapeziumvormig Bladbroodje dat Machine vormt