Trapeziumvormige dakplaatvormmachine
Onze trapeziumvormige dakplaat rolvormmachine is altijd eerste keus om dak te maken, nu gebruiken mensen metaaldak veel om concerate dak te vervangen.
Dit soort dak heeft veel voordelen: eenvoudige installatie, mooier, lichter, etc.
Rolvormmachines hebben zoveel voordelen ten opzichte van buigmachines en knipmachines! Het is een automatische machine die meer arbeid bespaart. Met HMI kunt u de orders direct invoeren, de machine werkt automatisch, nadat de bestellingen zijn voltooid. De machine stopt.
Voor trapezoïdale onze rolvormmachine, is het aangepast ontwerp. Verschillende ontwerpen kunnen worden aangepast als uw verzoek. Als u geïnteresseerd bent in onze machine.
We zouden u eerst enkele vragen stellen.
1) Heeft u een idee dat u nodig heeft? Inclusief maat. Als pls vertel me waar u vandaan komt. Dus we kunnen u een aantal populaire ontwerpen bij u thuis toesturen.
2) Wat is de materiaaldikte die u gebruikt? Max en Min?
3) Wat is hardheid van materiaal? Is het standaard? Of volledig hard?
4) Wat is de spanning van de machine die u nodig hebt? 380V, 50HZ? 220V, 60HZ? OF 415v, 50Hz? We kunnen maken is als uw verzoek.
Laat het ons weten als u vragen heeft over onze machine.
1.
Hoofdparameters van de vormmachine van het staalpaneelbroodje
:
P
arameters van grondstof
Material

Thickness

I.D

Yield Strength

Q235




gi&ppgi& galvalume

0.25-0.7

mm

508mm

<=

235mpa
Decoiling → Roll Forming →
Hydraulisch snijden
→
Verzameltafel
2.
Foto's van
Machine
: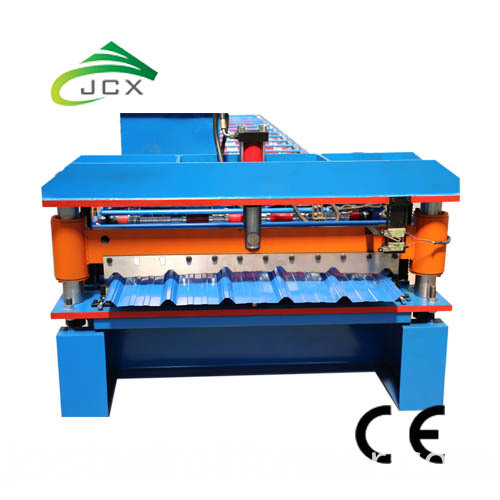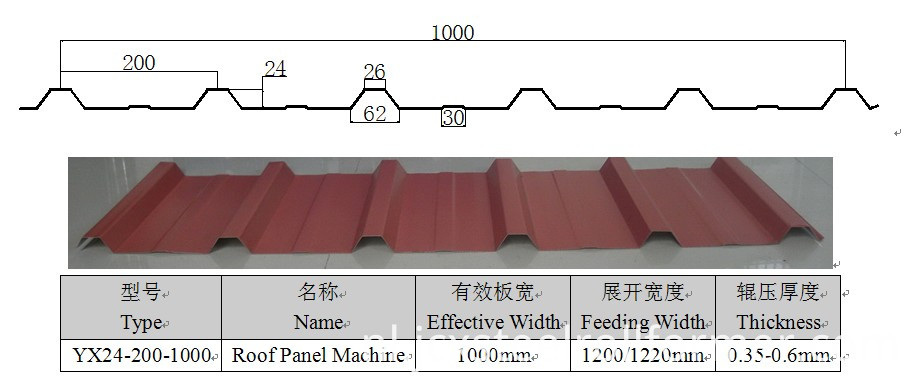 3
.
Technologie parameters:
Het gewicht van de machine is ongeveer
3
.
1
ton.
De totale dimensie van
machine
:
6800
(L) * 1
2
00
(W) * 1
5
00mm (H)
3.1Manuele decoiler
:
Capaciteit van uncoiler: 5tons
Uitbreiding van segment: Handmatig
Rotatie van segment: handmatig
Aantal segmenten: 4
Bereik van segmentuitbreiding: 480-520 mm
Bedieningsmethode: Handmatig
Aantal: 1
3.2
Leidingssysteem
:
Om het materiaal recht te houden
Ingang en verstelbare wiel: 2 rollen
Aantal: 1
3
.
3
belangrijkste vormmachine:
Coil thickness: 0.25-0.7mm
motortype: 3-fase asynchrone motor
Hoofdmotorvermogen: 4kw + 3kW (normale snelheid),
Approx.16groepsroller inclusief
Roller: S45C met blussen behandeling, assen van rollen zijn bewerkt door slijpmachine voor twee keer om de precisie van eindproduct.
Schacht: Diameter van max. Schacht: ø70mm (harden en ontlaten)
Transmissie type: door een inch ketting
Aantal: 1
3.4 Hydraulisch zagen:
Materiaal van het blad: Cr12Mov, HRC58-62
Lengtemeting: automatische lengtemeting van de encoder
Type snijden: Snijden na het vormen: Snijd de plaat na het vormen van de rol op de gewenste lengte. Voor verschillende maten hoeft u de vorm niet te veranderen
Snijbeweging: de hoofdmachine stopt automatisch en het snijden vindt plaats. Na het snijden start de hoofdmachine automatisch.
Vermogen van de motor: 3kw
3.5 Productondersteuningframe
Afmetingen: L 3m x W0.5m
Product Categorie : Dak en wandpaneel rolvormen machine > Trapeziumvormig Bladbroodje dat Machine vormt